UFC 117 had, arguably, the greatest main event match in all of combat sports history, when Chael Sonnen and Anderson Silva squared off in a five round battle of manhood. In which Anderson Silva made a miraculous comeback after four rounds of being pounded, to get a triangle choke submission victory over Sonnen. After Saturday night's UFC 136, Chael Sonnen earned his chance to call out Silva on live television about their impending rematch.
After defeating Brian Stann by second round arm triangle choke (BJJ by Chael?) in a number one contender middleweight fight Saturday night, Chael Sonnen
defended his title for the first time
earned his final shot to actually defeat Anderson Silva and fulfill his claim that he is the greatest middleweight fighter of all time. The victory also gave him an arena to do what Chael Sonnen (R) does best, ridicule an enemy in a humorous, and sociopath, way. (Did it sound like a Mexican accent?)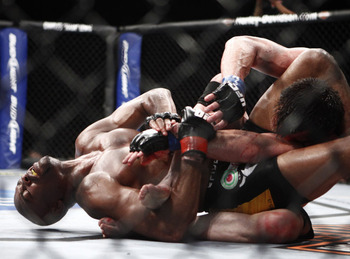 "
Anderson Silva
- you absolutely suck. I'm calling you out, Silva, but we're upping the stakes. I beat you, you leave the division. You beat me, I'll leave the UFC forever." -
Chael Sonnen
At the post fight press conference, Dana White did not confirm Chael Sonnen's wish to fight on Superbowl weekend, but at least UFC fans know the most anticipated rematch in sports history is soon to occur.
(Great Photoshop: Sonnen carries Brian Stann to safety.)
Also, Charles Barkley being next to Anderson Silva throughout Sonnen's "upping the stakes" speech just makes the everything about the video feel so right.
Update:
Looks like Zuffa has, yet again, won the battle against fun replays. Sorry people. Here is the closest thing I can find that involves the UFC 136 speech:
Others:
-
Shogun Rua, 16, fighting at a House Party
-
Breaking Bad: Walt kills Gus (Video)
-
Rangers Celebrate walkoff like a Porno (Gif)
-
Fan Throws hot dog at Tiger Woods (Video)
-
UFC 136: Champs, Chokes and Chael
-
Frankie Edgar gives the camera a bloody kiss
-
Rampage outs Spy on ESPN
-
College Gameday Signs (Tex-Okla)
-
College Gameday Signs (NEB-WISC)
-
College Gameday Signs (WV - LSU)
-
College Gameday Signs (FSU - OU)
-
Manny Pacquiao induces Suicidal Thoughts
-
Congress Meddles with NFL HGH Testing
-
NFL urges players to stop Faking
-
Bill Walton will always want to Punch Rasheed Wallace
Sorry Bro Sports
(
www.SorryBroSports.com
) is where you can get all breaking news or rumors around all type of sports. With a nice blend of humorous videos, gifs or images from sports. SorryBroSports has 0 off days. For quicker breaking news, you must follow me on Twitter. Or if you have a scoop or interesting thoughts about sports, message me there. Bookmark
Sorry Bro Sports.