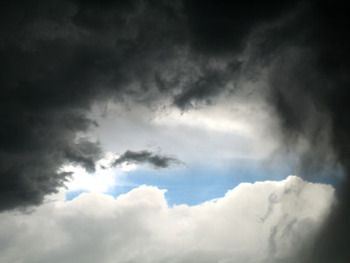 Jesus was asked about God on the radio on Tuesday morning, and he had a few things to remark on God's performance on Sunday. It is clear that Jesus does not
as brightly as he saw humankind's future.
"When you watch two or three highlights, you can't really say, 'Oh, this is the reason why' or 'He's gonna be John Elway,'" Tom Brady said on
The Dennis and Callahan Show
. "You can't tell after one game."
In case you are still unaware (which I doubt), Tom Brady is talking about Tim Tebow.
"I know myself, in my second or third year, you're a long way away from where you're going to be as a player," Brady said. "I've learned so much, and I'm still learning, and this is my 12th year. There's not a game that I play in that I don't learn something and that I don't gain valuable experience from."
"It's a long process for a quarterback," he said. "We're all trying to get better on a weekly basis. The important part for a quarterback is not to regress."
It is still uncertain if Jesus believes in God as a NFL quarterback, but, nonetheless, today humans have witnessed a miracle.
God
Tebow bless.
-
-
Ken Griffey Jr. still plays Ken Griffey Baseball
-
Nelson Cruz 1-0-0 Gone!
-
Game 6: Rangers nearly got Bartman'd
-
Texas Rangers celebrate walkoff like a Porno
-

LSU Chancellor is Ballsy
-
Rams choose MLB over NFL this weekend
-
Michigan St. Gameday Signs
-
David Ortiz blows off D.P. Show
-
Washington QB admits to "Paid-to-Play," Wait!
-
College Gameday Signs (Ore - ASU)
-
College Gameday Signs (Tex - Okla)
-
College Gameday Signs (Neb - Wisc)
-
College Gameday Signs (WV - LSU)
-
College Gameday Signs (FSU - OU)
-
Bill Walton is tortured to never punch Wallace
Sorry Bro Sports
(
www.SorryBroSports.com
) is where you can get all breaking news or rumors around all type of sports. With a nice blend of humorous videos, gifs or images from sports. SorryBroSports has 0 off days. For quicker breaking news, you must follow me on Twitter. Or if you have a scoop or interesting thoughts about sports, message me there. Bookmark
Sorry Bro Sports.